La Liga side Real Madrid edged out Serie A giant Napoli 3-1 in the first leg of the UEF A Champions League at the Santiago Bernabeu on Wednesday.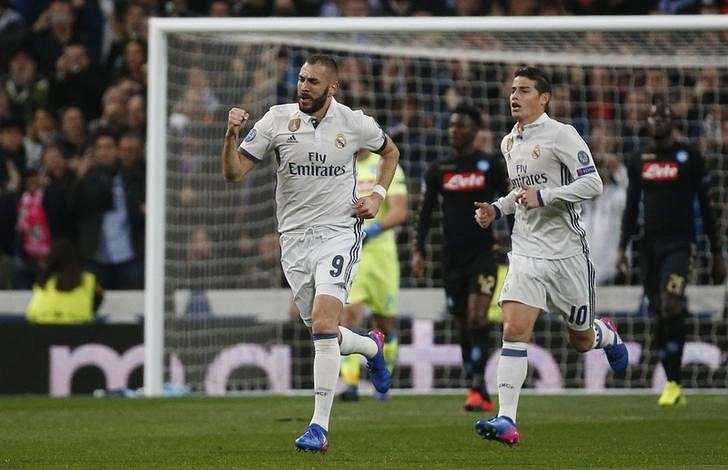 The result was one that was expected, considering Real's huge stats at home. The European champions have now won 34 Champions League games out of 39 at home.
Napoli started on a good note as Lorenzo Insigne caught keeper Keylor Navas off his line. Skipper Marek Hamsik broke through the Madrid set-up before laying the pass unto Insigne. He curled the ball from 35 yards out, placing it in a tight angle. The attempt on target eventually became the only one for the visitors throughout the first half of the game.
Real responded eleven minutes later as Dani Carvajal sent a nice cross that Karim Benzema headed. Unselfish Cristiano Ronaldo did all the hard work, beating a defender before moving closer to the box. he did a pullback for Toni Kroos to whip in early in the second half. The goal rattled the guests who were hoping to force a draw. Casemiro sealed the victory for Madrid in the 54th minute with a stunning volley.
Ronaldo has now gone 523 minutes without a goal in the Champions League – his longest drought for Madrid in the tournament. However, he was quite lively in the game, making attempts and getting an assist. He got his fifth assist in seven games in the Champions League this term – his highest in the Champions League in a season since his move to the Spanish giant.
"We played a great game – it was a shame about the Napoli goal but we rectified things, scored ourselves and turned the game on its head and I think it was the right result. We'll go there to a difficult ground where we'll suffer and it is still an open game," Coach Zinedine Zidane said.
Napoli boss Maurizio Sarri said that they would try to "overturn the situation" in the return leg.